---
HOME------NEW POTS FOR SALE------OLD POTS NOT FOR SALE------POTTER INFO------CONTACT AND SALES------EXHIBITIONS------MOST CURRENT WORK------CATCH-ALL PAGE
---
In the Art Pottery Tradition
by Tim Eberhardt
Photos by Ray Hunter
Reprinted from the "Ceramics Monthly" December, 2001 issue.
---


When the kiln thast held my first five pots was opened, the instructor looked at me and said, "Tim, you were born fully formed." I was surprised with the results as well. But in 1993, I was 44 years old, trained in art and knew what I wanted from clay.

I had collected art for about fifteen years, any kind of art, as long as it was handmade. I always prioritized beauty, and pottery was always at the top of the list in this department. American art pottery, primarily out of Ohio, caught my eye early on.

People in the know say the seed of the art-pottery movement was sown at the 1876 centennial exhibition in Philadelphia. The worldwide inspiration provided there took root, and pottery clubs sprang up all over the United States. The "new' art pottery of 1880 to 1915 was more like what studio pottery is today-intensively hand worked, one-of-a-kind pieces, where human effort invested is obvious. And all it was meant to do was look beautiful. Functional pottery needed for daily living, along with roof tile, sewer pipe and bricks, still dominated the ceramics industry, and would do so until refrigeration and plastics became commonplace.

The preeminent American art pottery was Rookwood of Cincinnati. Founded in 1880 by Maria Longworth Nichols, who started her career in ceramics as a participant in a china-decorating club, Rookwood produced some of the finest pottery imaginable for the next 75 years, Tight controls on all aspects of production kept it in the forefront of the art-pottery movement.


"Rain Pot," 12 inches (30 cm) in height, wheel-thrown porcelain.

Of course, there were hundreds of other potteries in the art-pottery business during the "progressive" era. Some were one-person studios, while others were huge operations. Artists would frequently move from pottery to pottery over the course of their carreers. For example, Frederick Rhead, who came from a long line of English potters, would work for, be the art director for or establish a dozen top companies in America. The work he did for each of those companies is easily recognized.

All these potteries were attune to the art theories of the day. The shapes and concerns of their works mirror the nouveau, deco and modern movements of the art world in general. The ideas were in the air everyone was breathing.

The best art pottery was made into the teens of the 20th century. After that, higher production necessitated less hand work, and simpler shapes and glazes. Middle period pots are still beautiful, but it was a beauty for everyone at modest prices. My parents bought Roseville vases on the side of Highway 40 around Zanesville, Ohio, as they passed through heading east for summer vacations. Today, a better middle period Roseville pot may exceed the $1000. mark-and it might still have the original $1.99 price sticker on it!

The later period pottery of 1940 to today is typified by minimal hand work. It is not to say that design and artistry were lost; they are still there, just in a simpler form.

I was a history major at St. Louis University in the late 1960s, and cocentrated on American history between the Civil War and World War II. This period is often referred to as the "industrial" or "progressive' era. It is also, coincicentally, the era in which the art-pottery movement began, prospered and ended. In the late 70s, I was a sculpture major at the San Francisco Art Inststute and, oddly enough, never considered ceramics as an medium for artist endeavors, even though Ron Nagle, Ken Price, Robert Arneson and the like, were practically neighbors.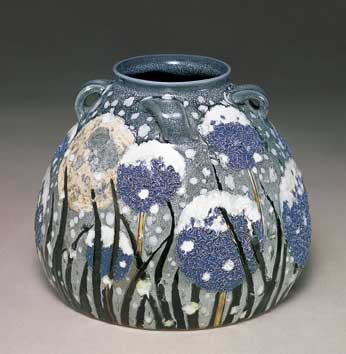 "Snow Falling on Aliums," 8 inches (20 cm) in height, thrown porcelain, glaze fired three times.

After leaving the Bay Area and returning to St. Louis, I painted and made large, elaborate lamps as an avocation. When I finally decided that painting was work and I didn't enjoy it, I signed up for a ceramics class at the local community college. One touch of the clay was all it took.

I have always been a realist. Accurate drawings and paintings, as well as constructivist sculpture with hard basic materials, describe my creations before clay. I am still a realist, as far as image is concerned. And clay is a sculptural material, if not "the" sculptural material. My concerns are the same; it's the medium that has changed.

I, like most art potters historically, take my inspiration from nature. Ideas for my pots are in my backyard. Early spring means peony pots, summer means chive and coneflower pots, and winter means snow landscapes. There is no shortage of inspiration right outside the door.

I do behave a bit eccentrically, espiecally on the bottom of my pots. Everything is clearly marked: "Tim Eberhardt, St. Louis," and dated with the day that I deal with the bottom of the pot. In this way, I give the public (and historians) the who, when and where of the pot. The why and how is for their eyes to discern.

Collectors love marks. The more descriptive and specific, the better. I also add comments, write poems, ask questions and try to predict the future (guessing what people will think about the pot down the line) on the bottoms of my pots. This is painted in cobalt on the Cone 10 porcelain.

Also, when I sell a pot, I keep a majic marker in my pocket and write something about the buyer, my thoughts at the moment or perhaps the circumstances of the transaction. For example, I might write, "So-and-so bought this pot at the 2000 Zanesville "Pottery Lovers" gathering on 7/14/00. They buy my best pieces and I appreciate it!" Collectors appreciate such thoughts and I love to do it.

When I do a show, I also try to build a mailing list, by telling everyone: "Put your name and address on the back of this card and put it in this pot. My nine-year-old son is going to pick a card out and the pot will be sent unannounced to someone's door.


Front and bak views of a slip cast porcelain coin (shown actual size)
which serves both as a souvenir and a redeemable coupon.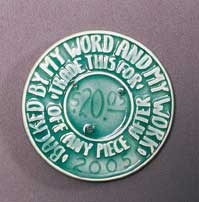 Another promotional item I've given people just for looking is a two-sided coin of my personal money. I was manning my booth at a show wondering, "How can I make some money?" I decided to literally make my own money, my own coin. It is an elaborate slip-cast porcelain coin with my picture on one side and a coupon for so much off any pot after such and such a year on the other. I don't anticipate any of the coins being redeemed; collectors see them as inherently valuable. The coins have been a big hit with the public. I also trade them for food and beverages at shows.

My shapes are conventional, simple forms with intensely decorated surfaces. (Admittedly, that word "conventional" stings a little when I write it.) My efforts for the last two years have been to instill a time of day into the decoration. Pots inspired by the garden have become landscapes. Bright sunny days, rain and snow are my themes.

I also find much inspiration in Japanese woodblock prints, which I have collected avidly for 20 years. I stopped buying art pottery, though. It has become too expensive. My last purchase was three years ago. I paid $630. for a primo Roseville wisteria vase, but said, "That's it; no more." Dealers are now asking $1800 for similiar pots.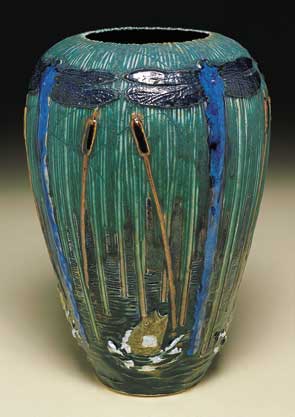 "Dragonfly Pot," 10inches (25 cm) in height, wheel thrown porcelain
by Tim Eberhardt, St. Louis, Missouri; website www.newartpottery.com.

The prices the old pots are bringing are the reason I can spend three days on one of my pots and feel confident I'll sell it for what I expect. I sell primarily to art-pottery collectors; they seem to immediately, intuitively appreciate my work as well.

I make pots "in the spirit of" rather than "the manner of" the art pottery tradition. And most of my patrons realize that I am picking up the ball where it was dropped in the middle of the last century. I'm just part of a long line of art potters, and I love it.


---
HOME------NEW POTS FOR SALE------OLD POTS NOT FOR SALE------POTTER INFO------CONTACT AND SALES------EXHIBITIONS------MOST CURRENT WORK------CATCH-ALL PAGE